EMS AEM PnP (Plug and Play) MR2
AEM's Plug & Play Engine Management System (EMS) plugs directly into a vehicle's factory ECU harness and requires no additional wiring or hardware. Windows™ compatible software (2000, XP, NT, 98, 95, ME) makes the task of copying, viewing and manipulating data as simple as a click of the mouse. An integrated tuning wizard allows users to create a base map specifically for a car's configuration, regardless of what type of injectors, sensors, coils or other changes have been made. The AEM EMS's infinitely adjustable software allows tuners to program virtually any combination of engine control, power adders and auxiliary devices, and accurately delivers proper amounts of fuel and correct ignition timing for any boost level or operating condition.
To download the latest version of the AEMPro Software:
CLICK HERE
.
- Installs in minutes using Plug & Play technology—no wiring necessary!
- Start-up calibrations included
- Live help window eases tuning process
- Set-up Wizard creates a custom base map for your car
- System is fully enabled—Never pay for upgrades!
- Free software updates on aempower.com
- Uses all the factory sensors
- Runs on Windows™ compatible software
- Fuel table automapping
- Programmable traction control
- Onboard 512kb datalogger
- Up to 10 cylinder sequential fuel injection
- 16 general-purpose outputs
- 7 definable switch inputs
- Electronic boost control
- Soft cut rev limiters
- Two step launch control
- Wet or dry nitrous control
- Definable knock control
- Full idle control
- 4 EGT inputs with fuel control
- 16/32 hybrid high speed processor
Included in this price is your choice of map sensor and an IAT sensor. Wideband o2 sensors are optional (but recommended for tuning purposes).
$1850.00 each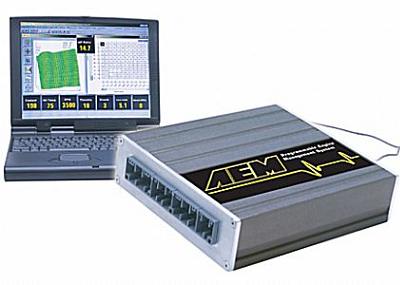 KO-Racing