EMS Hydra Nemesis 2.6 PnP for 3SGTE
Hydra Nemesis 2.6 PnP EMS for the 3SGTE
The Hydra product line is powered by dual 16-bit 25MHz Motorola processors which provide fast and accurate control of your engine. The Hydra Nemesis 2.6 plug and play engine management system comes with everything you need to install and run the Nemesis stand alone engine management system on an MR2 Turbo. The system has the following features:
* Easy installation on an MR2 Turbo or Celica All-trac
* Eliminates the stock air flow meter (AFM) and cold start injector
* User configurable 32x32 fuel and timing maps with selectable RPM and load points
* Two selectable 32x32 fuel and ignition offset maps for alternate fuels
* Directly supports the NGK L1H1 and L2H2 5-wire wideband oxygen sensor (additional cable required)
* Uses stock engine sensors including the distributor
* Built-in launch control (2-step) and flat shift for drag racing applications (additional cable required)
* Controls the stock ignition or MSD 6 ignition setups
* Runs full sequential injection
* Supports full sequential ignitions -- i.e. coil per cylinder (additional igniter adapter required)
* Operates all accessories including AC, power steering, cruise control and ABS
* Controls the TVIS, EGR, fuel pump volume and engine check light
* Uses the stock idle speed valve to provide a stable idle under different loads
* Internal 4-bar MAP sensor supports up to 45 psi boost
* Rev limit to 16,000 RPMs with adjustable soft (random miss) and hard (complete cut) rev limiters
* RPM adjustable knock detection threshold for detonation protection
* Adjustable fuel cut for overboost protection
* Easily configurable to work with Gen1 (88-89), Gen2 early (90-92), Gen2 late (93-95), and Gen3 engines (94+ outside North America)
* Uses stock narrowband oxygen sensor to maintain proper fuel mixture while idling and cruising
* Individual cylinder fuel and timing advance trims
* Quick connect 2-piece laptop cable can be easily routed to passenger cabin
* USB to Serial (DB9) adapter for use on a laptop without a serial port
* Windows-based tuning software (requires a laptop with a serial or USB interface)
* On-board and laptop datalogging at adjustable sampling rates
* Controls Aquamist 1S and 2C water injection setups
* Adjustable air and coolant temperature correction of fuel and timing
* Supports staged injection setups (additional injectors and cable required)
* Controls boost (boost control option required)
* Operates as a turbo timer (turbo timer option required)
* Comes with base maps to start most engine setups and drive them to the dyno for proper power tuning
* Controls any level of power from a bone-stock 170rwhp up to +600rwhp monsters
The system sells for $1600 plus shipping. The unit includes:
* Hydra Nemesis 2.6 computer
* Plug and play adapter for genII and genIII 3S-GTE engines (Gen I engine adapter available at additional cost -- see option below)
* USB to Serial converter
* CD with software and base maps
* Cold start MAT sensor plate
* Cold start feed plug for stock fuel rail
* GM MAT sensor
* MAT sensor wire
* 10' laptop cable (with easy disconnect to thread through firewall to passenger cabin)
* Bracket that bolts Hydra Nemesis 2.6 and plug and play adapter securely to the stock MR2 ECU mounting holes
* 4' of 4mm vacuum hose
* 4mm tee
* ½" grommet
For an additional $395, the unit will include:
* NTK L1H1 or L2H2 sensor
* Wideband sensor to Hydra Nemesis 2.6 cable
* Autotune mode based on target AFR map
* Toyota O2 bung to 18Mx1.5 adapter plate
* One free auto tune activation key
* ½" grommet
For an additional $150, the unit will include:
* Boost control solenoid
* Bracket and hardware to attach solenoid to firewall
* Boost solenoid to Hydra Nemesis 2.6 cable
For an additional $50, the unit will include:
* Turbo timer harness
* Turbo timer power relay
For an additional $25, the unit will include:
* Launch control cable
This unit is only legal for off-road use only and requires professional tuning to safely operate. Base maps are provided only to get the engine started and (depending on the specific setup) allow the car to be operated without boosting.
KO Racing strongly recommends getting the wideband option at the very least for tuning this setup. While the 2.6 version can read the input from an auxiliary wideband setup (0-5V), it is much more feasible to datalog and tune with the internal wideband.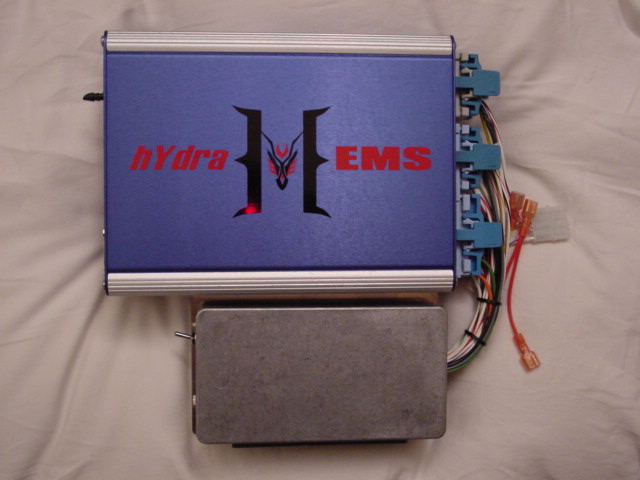 $2200 all inc.
KO-Racing