Street Brawler Turbo Kit T3/T4
The Street Brawler T3/T4 Turbo kit was developed exclusively for the Toyota 3SGTE Engine (will fit MR2 and Celica All-trac), to provide near to stock turbo spool, while allowing 300+ rear wheel horsepower to be achieved at 20PSI or less (with supporting modifications). The kit includes a manifold adapter, which is CNC machined from a solid steel billet and bolts to the stock manifold to retain OEM reliability. The other components include a full 3" mandrel bend down pipe with integrated 1.75" diameter wastegate dump tube, with it's own flex section, a Tial 38mm external wastegate,and all lines, gaskets, and mounting hardware needed to install the kit. More pictures can be seen in the photo gallery.
What's included:
* Full 3" downpipe with V band clamp and integrated 1.75" wastegate dump tube (with it's own flex section)
* Wideband O2 Port and Plug
* Downpipe support bracket
* Tial Sport 38mm external wastegate
* CNC machined steel manifold adapter, with integrated external wastegate port/mount.
* -3AN oil feed line
* -12AN oil return line
* Oil line adapter fittings for the block and oil pan
* Heat shielding (for clutch slave lines)
* Assorted hoses for connecting the wastegate to a manifold pressure source
* Assorted hardware (nuts, bolts, washers, gaskets, zip ties, etc.)
* Garrett T3/T4 .63A/R stage 3 turbine/TO4E-46 compressor Or
* Garrett T3/T4 .63 A/R stage 3 turbine/TO4E-50 compressor
The adapter and down pipe are coated with the same 2000F ceramic thermal barrier coating that is on our CT26/CT20b down pipes.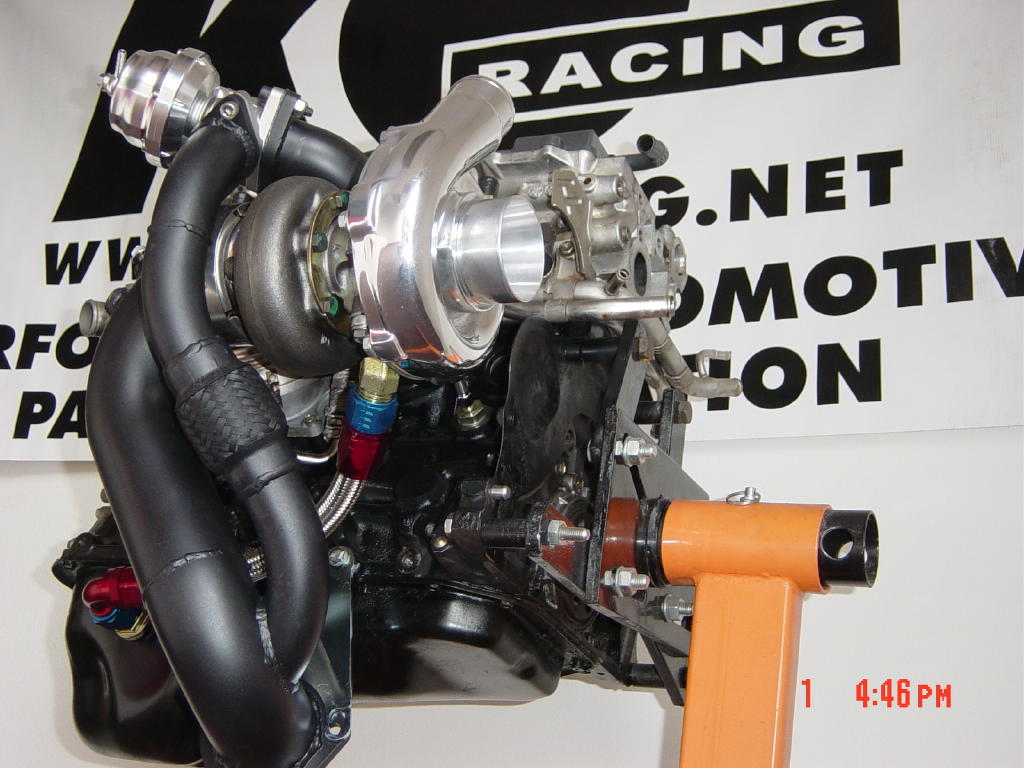 ~ $2500
KO-Racing